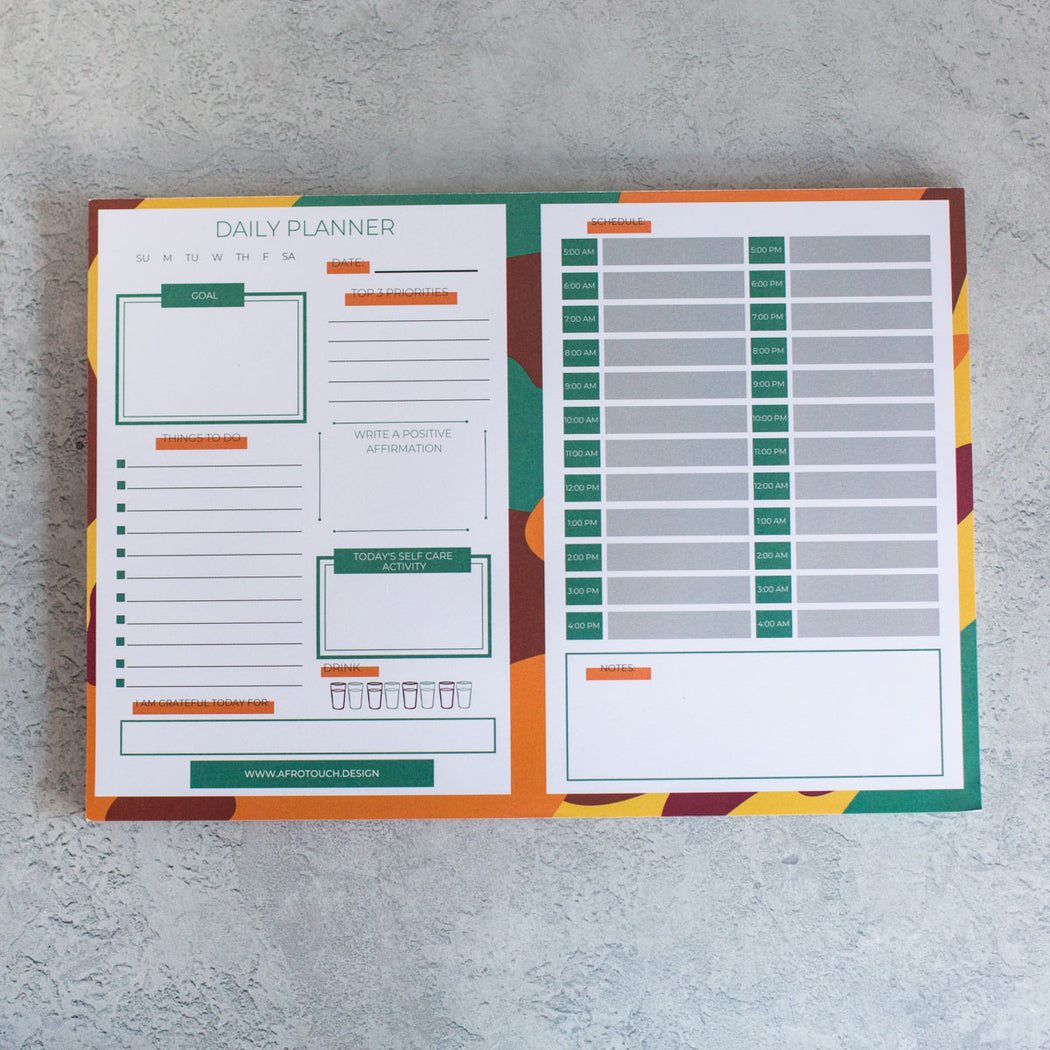 Description
Keep yourself organised with the AfroTouch Design day-to-day desk planner. 

Personal planners are a great way to keep yourself and your family organized. Whether you're super busy, or just looking for something to keep track of what's going on in your day, then this daily planner is for you. 

Dimensions and details
A4, 120gsm Uncoated pad
50 sheets
Single Sided with Greyboard Back
Delivery details
This product is shipped from the United Kingdom. 
Postage and delivery options: 

UK shipping
Standard (3 - 7 days): £4.95
Tracked (2 - 5 days): £6.50  
Express (48 hours): £8.50
Europe 
Tracked & signed (4 - 7 days): £15  
Courier (2 - 5 days): £20
US, Canada, Australia & rest of the world (we do NOT ship to South Africa) 
Tracked & signed (7 - 10 days): £28   
DHL express (2 - 6 days): £34
The cost of shipping is for your entire shopping basket and not each individual item. 
Founder's story
Georgina Fihosy is the creative mind behind AfroTouch Design, an Afrocentric stationery brand. She started her business - called Special Touch Designs in its early years - in the summer of 2015 while on maternity leave. The business was born mainly out of frustration around the lack of representation in the greeting cards industry. Georgina says "I wanted to find a card for a friend who had just had a baby and couldn't find one with a black baby or one that reflected her and her family and this beautiful occasion. I wanted something fun and urban - so I decided to make one myself and Special Touch Designs was born."
Fast forward to 2019, and Georgina decided to rebrand her business, renaming it AfroTouch Design. She wanted a name and brand that would truly resonate with her customers and explain through the name, what she did – give products an Afro touch!