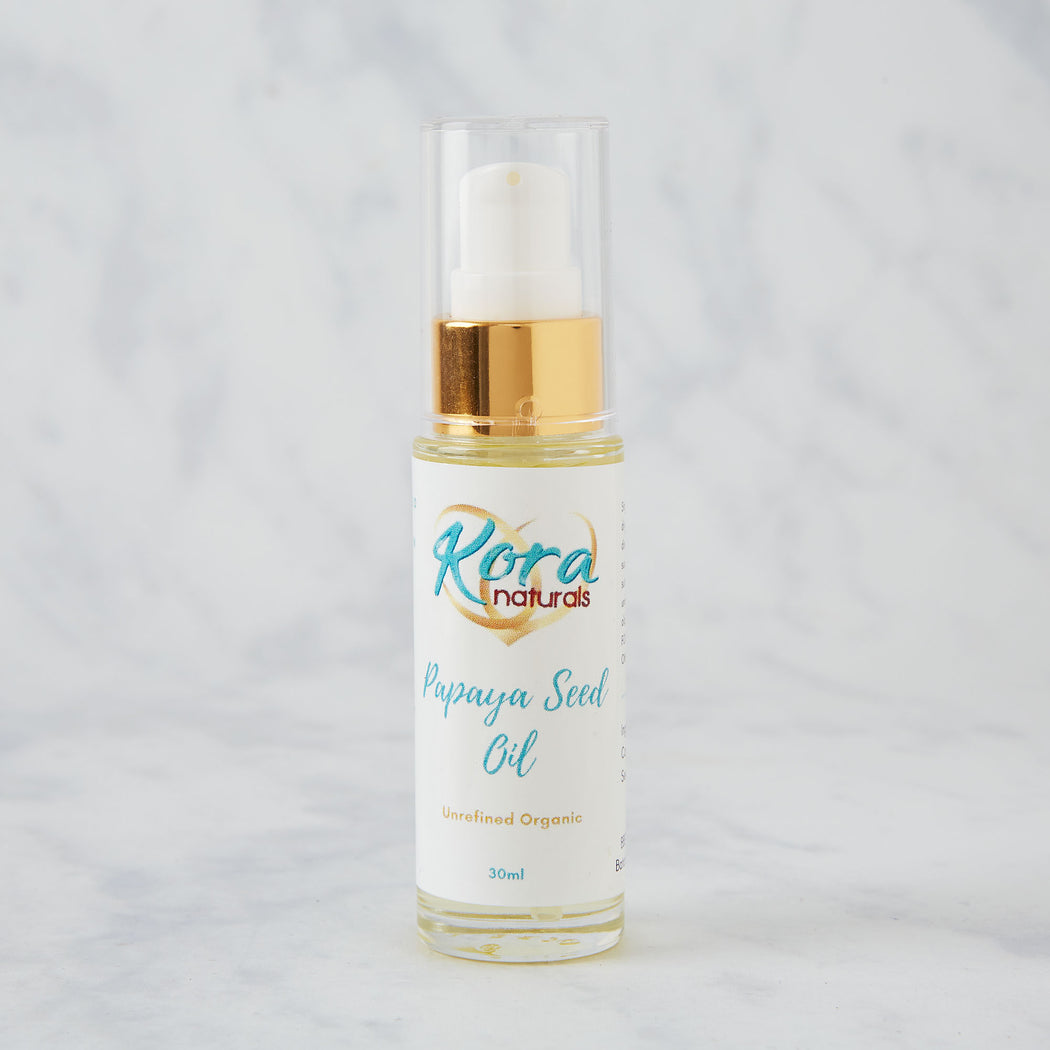 Description
Kora Naturals organic papaya seed oil is a beautiful, light and nourishing oil for the face. It is also gentle enough to use around the under-eye area. It is rich in omegas 6 & 9 and vitamins A, C & E. Papaya seed oil contains papain enzyme which helps control sebum, remove impurities and unblock pores. Continued use will help reduce the appearance of brown spots and scars.
Product size: 30ml
Full ingredients
Organic unrefined papaya seed oil. 

Delivery details
This product is shipped from the United Kingdom. 
Postage and delivery options: 

UK shipping
Standard (3 - 7 days): £4.95
Tracked (2 - 5 days): £6.50  
Express (48 hours): £8.50
Europe 
Tracked & signed (4 - 7 days): £15  
Courier (2 - 5 days): £20
US, Canada, Australia & rest of the world (we do NOT ship to South Africa) 
Tracked & signed (7 - 10 days): £28   
DHL express (2 - 6 days): £34
The cost of shipping is for your entire shopping basket and not each individual item. 
Founder's story
Natural & ethical living enthusiast, Corrine Hayford-Kwatchey aspires to empower black female entrepreneurs, to awaken the eco-conscious and promote self-empowerment amongst the black community.  Corrine's Kora Naturals is on a mission to become the UK's leading luxury skincare range for women of colour, by using premium African botanicals and oils which have a natural affinity to black skin. Corrine first had the idea for her business in 2010 after the birth of her first child.  With the appearance of her own skin dramatically changed by pregnancy and the aftermath (and as a life long champion of raw shea butter), she started to look for shea butter based products that addressed these skin issues and the moisture loss commonly suffered by black women but that had a luxury quality.Frustrated with the lack of premium quality products for black skin, Corrine began experimenting in her kitchen with adaptations of body butter recipes she found online, and two years later Kora Naturals began sharing its products with everyone.